Nissan / Nissan GT-R
Specs
Engine

3.8L

Power

485 @ 6400 rpm

Transmission

6-spd aut w/OD

0-60

4.1 seconds
Drivetrain

all-wheel

Seating

2 passengers

Fuel Capacity

74 liters

MPG

18.3 City / 9.1 HWY
Specs
| | | | |
| --- | --- | --- | --- |
| Nissan GT-R Base | 2009—2010 | 6 s., sequential automatic | 485 Hp, petrol |
| Nissan GT-R Black Edition | 2009—2011 | 6 s., sequential automatic | 485 Hp, petrol |
| Nissan GT-R Black Edition | 2011—2012 | 6 s., sequential automatic | 530 Hp, petrol |
| Nissan GT-R Black Edition | 2012—2013 | 6 s., sequential automatic | 550 Hp, petrol |
| Nissan GT-R Egoist | 2012—2013 | 6 s., sequential automatic | 550 Hp, petrol |
| Nissan GT-R Premium Edition | 2009—2011 | 6 s., sequential automatic | 485 Hp, petrol |
| Nissan GT-R Premium Edition | 2011—2012 | 6 s., sequential automatic | 530 Hp, petrol |
| Nissan GT-R Premium Edition | 2012—2013 | 6 s., sequential automatic | 550 Hp, petrol |
| Nissan GT-R Track Pack | 2012—2013 | 6 s., sequential automatic | 550 Hp, petrol |
| Nissan GT-R | | 6 speed automatic | 550HP (404 kW) @ 6400 rpm |
| Nissan GT-R specV | | 6 speed automatic | 530HP (390 kW) @ 6400 rpm |
| Nissan GT-R SpecV | | 6 speed automatic | 485HP (356 kW) @ 6400 rpm |
| Nissan GT-R | | 6 speed automatic | 485HP (356 kW) @ 6400 rpm |
| Nissan GT-R Spec V | | Automatic | 336HP (247 kW) @ 7000 rpm |
| | | | |
| --- | --- | --- | --- |
| Nissan | | n/a | 212HP (165 kW) @ 0 rpm |
| Nissan 1-Tonner 2400 Hi-Rider | | manual | 95HP (70 kW) @ 4500 rpm |
| Nissan 1-Tonner V6 4X4 Patrol | | manual | 150HP (110 kW) @ 4800 rpm |
| Nissan 211 | | manual | 94HP (69 kW) @ 4800 rpm |
| Nissan C 52 | | Automatic | 105HP (77 kW) @ 6000 rpm |
| Nissan CQ-X | | Automatic | 279HP (205 kW) @ 6800 rpm |
| Nissan DS-2 Sedan | | manual | 94HP (69 kW) @ 4800 rpm |
| Nissan El Grand 3.3 | | Manual | 105HP (77 kW) @ 6000 rpm |
| Nissan Ideo | | Automatic | 155HP (114 kW) @ 6400 rpm |
| Nissan Pino E Automatic | | automatic | 53HP (39 kW) @ 6500 rpm |
| Nissan Pino E Four Automatic | | automatic | 53HP (39 kW) @ 6500 rpm |
| Nissan Pino S Automatic | | automatic | 53HP (39 kW) @ 6500 rpm |
| Nissan Pino S Four | | manual | 53HP (39 kW) @ 6500 rpm |
| Nissan Pino S Four Automatic | | automatic | 53HP (39 kW) @ 6500 rpm |
Videos / Nissan GT-R
Nissan GTR car review - Top Gear - BBC autos
2013 Nissan GT-R Black Edition: World's Greatest Super Car Bargain - Ignition Episode 10
1400 Horsepower AMS Performance Alpha 12 Nissan GT-R - CAR and DRIVER
UGR Lamborghini Gallardo Nera vs Nissan GT-R AMS Alpha 12
Nissan gt-r –the dream of every car fanatic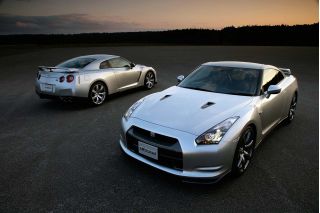 The wonder car
The qualities which one wants to have in his/her dream car, Nissan gt-r has all of it in one. Be it style, comfort or transmission, it has all of it at the very best one can get, and that's why it is also known as Godzilla among the car lovers around the world. It is a sports car produced and marketed by Nissan for the first time in November 2007 in Japanese domestic market and in 2008 it reached the shores of USA. In the next year that is in 2009 Nissan starts selling it in the global market. GT-R is the predecessor of the famous Nissan car skyline GT-R32. Like other models of this series it is also marked with GT-R badge and traditional four round rear lights.
Japanese dream
By producing the gt-r model it fulfils a Japanese dream after the popularity of Skyline GT-R R32. It is first showcased in as a concept car in Tokyo motor show in 2001 and a redesigned one in 2005 Tokyo motor show and disclosed that how the new age gt-r will look like and the original car which start producing from 2007 will look 80-90% as same as that model. And in 2007 Nissan came with the best of their offering so far for the world Nissan GT-R35 or which popularly known as Nissan gt-r. This car is now prove to be iconic and achieved much fame than its ancestor's skyline GT-R models though it is now not carrying the same badge of Skyline which they used to have but it has the same heritage of the skyline series. Once the chief creative officer of Nissan told that this car is unique because it is not a copy of American or European super cars, it reflects the Japanese culture and shows the Japanese dream to the world.
High points of the car
This beautiful car has certain advantages of its peers that distinguish it from others. This car offers best reasonable value for your money with outstanding handling& acceleration power for a car at this price. It's all wheel driving system gives the driver ease to handle the car at high speeds. Its badge i.e. The GT-R badge is a symbol and heritage of Japanese best performed cars offered by Nissan. It is very fast around the tracks. It can give the owner the practicality and comfort of a grand torturer. It is also known for its very smooth engine performance. It has track pack which offer better handling the car. Gear change is also very smooth rather than its other peers. Here in this car the former straight-6 RB26DETT engine has been replaced with a new V6 VR38DETT., which gives it more power than before. Above that 6-speed Dual Clutch Transmission, Downshift Rev Matching (DRM) and Predictive pre-shift control has been introduced into this model for better transmission and speed. It reaches to top speed in split seconds of time. Except these facilities Nissan gt-r implemented Electronic analog instrument cluster with multi-function trip computer and digital gear indicator, Heated front seats, Leather-wrapped steering wheel and shift knob, Nissan Advanced Air Bag System (AABS) with dual-stage supplemental front air bags, Nissan Vehicle Immobilizer System to name a few facilities to give the owner a wonderful and safe driving experience.