Enfield / Enfield thunderbird
Videos / Enfield thunderbird
Royal Enfield Thunderbird 500
Anshuman G Dutta + Royal Enfield Thunderbird.avi
Enfield Thunderbird to enthusiase your rides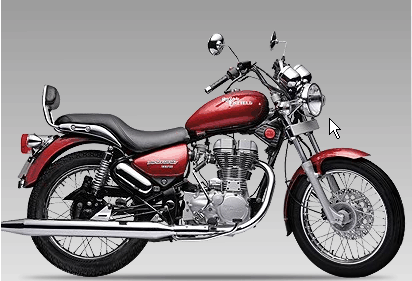 The Royal Enfield Thunderbird is a cruiser class motorcycle. It was produced by the Chennai based bike maker Royal Enfield Motors in India. The Royal Enfield Thunderbird 500 raised a storm among all biking community with its style. We can see the cool demeanor that copes with a list of several features seen 1st time on an Enfield motorcycle ever. It reserves to keep up with the faster bikes. Though vibrates are reduced and the new Unit Construction Engine feels a touch is more refined than the outgoing model. Thunderbirds aimed to consolidate Royal Enfield market position and improve the company realization of youth segment positions.
Features' Fit for a Royal Ride
The features of Enfield Thunderbird are amazing, it is attracted by youths and all peoples. Here they are using a 499cc single cylinder engine with 4-stroke air cooled Twin sparker that help to serve on a classic 500. It makes 42.3NM of Torque at 4000 RPM and 28PS of power at 5250 RPM. It is included with advanced Keihin electronic fuel injection system. There is a beefy 41mm diameter telescopic suspension along with 180mm travel looking after dumping duties up front and the rare twin gas charged shock absorbers with 80mm travel. The new Unit Combustion Engine that complies with Euro 3 norms is compact and its looks aesthetically better. It includes the new hydraulic tappets, high flow pumps, an improved clutch mechanism, automatic primary chain tensioned and the most important is the twin spark setup. All these new auto parts have made the engine more efficient, powerful and refined. The fuel tank fits neatly in the chassis without using any metal protrusion beneath. Weld lines are neat and uniform. The front mudguard, instrumentation clusters and headlight are arranged like an older Thunderbird.
The design suitable for a typical 21st century Motorhead
Apart from better looking engine Thunderbird has received minor visual enhancements also. The chain drive is moved to the right, use of new seat, new stickers and rear fender. The wide seats are very comfortable for riding position. The kick lever takes muscle prod and awkwardly positioned. This bike is always looking very handsome with a new variant feature, with their macho appeal and overall look. The shifting of rear brake linkage to the right side helps to improve the brake feel as well. The straight line stability is good and front tire feels skittish during hard braking. The 19 inch big spoke wheels are cruiser tradition and are fitted with MRF cross play. This bike feels stable at speed through the vibration.
The technologically advanced performance updates
The Thunderbird has received good response from both bullet and non bullet bikes. The TBTS is a much improved bike. It is very fast, reliable and economical as well. Its test ride has already been done in Himalayan Odyssey, everything is working fine. The Royal Enfield calls the new engine platform as engine of future growth with the Unit Combustion Engine. Its aim is to bump up the Enfield Thunderbird's reliability. Another important feature is Twin spark is auto decompresses with witch activates at 250 RPM to put pay for startup woes. The elector motor is placed on the inner side of the Unit Combustion Engine to reduce spark clutch glitches.