Volkswagen / Volkswagen CrossFox
Specs
| | | | |
| --- | --- | --- | --- |
| Volkswagen GTD 3 Door | | 6-speed manual | 81HP (59 kW) @ 2600 rpm |
| Volkswagen GTD 5 Door | | 6-speed manual | 81HP (59 kW) @ 2600 rpm |
| Volkswagen Magotan 1.8 TSI | | 6 speed manual | 160HP (118 kW) @ 5000 rpm |
| Volkswagen Magotan 1.8 TSI Tiptronic | | 6 speed automatic | 160HP (118 kW) @ 5000 rpm |
| Volkswagen Magotan 2.0 TSI | | 6 speed automatic | 200HP (147 kW) @ 5000 rpm |
Videos / Volkswagen CrossFox
Volkswagen Crossfox 1.6L IMOTION 2012/2013 novidade!!! HD
VW Crossfox Highline - Test - Matías Antico
Volkswagen Crossfox en Perú I Video en Full HD I Presentado por Todoautos.pe
Routiere Test Volkswagen Crossfox 1.6 Pgm 140.mpg
A dream car at affordable prices – Volkswagen CrossFox
The actual look of Volkswagen CrossFox has seriously attracted several thousand drivers. Launched in Brazil, the vehicle was appreciated by many car aficionados. With huge tyres and chunky rear bumpers, the tough little super mini showcases the presence of a huge off roader! The CrossFox has triumphed in a competitive market. The car blends together several off road features with a little bit of chunkiness and decent road manners. It has a powerful 1.6 liter engine that makes the model extremely special. The engine confers drivers with reasonable performance. Thus, the CrossFox is a strong rival, which stands against several other off-road vehicles like Panda 4x4.
An unbelievable price
Car aficionados have admired the vehicle's driving lights, bull bar and strong aluminum running boards. Moreover, the super cool mini has an appearance that is ready to do anything and drive anywhere. The Volkswagen CrossFox is more than an ordinary car. Brazilian buyers dream of acquiring the vehicle due to its unbelievable price. The CrossFox costs only $8000. This is nearly$12000 less than what many other brands demand. A large number of people believe that the brand has compromised features with price! This is an inaccurate statement, the CrossFox tends to attract people who love city roads and forest tracks. The vehicle is designed to tackle these environments in a hassle free order!
A practical machine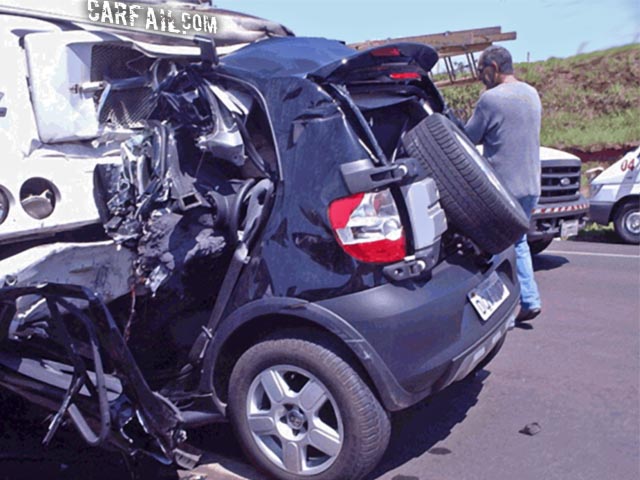 When compared against its rivals like Suzuki Jimny and Fiat Panda 4x4, the Volkswagen CrossFox has a great front wheel drive machine. This is an essential feature that blends the practicality of forest vehicles with the simplicity of city cars. The newcomer maintains a strong grip on tough grounds. Though the vehicle's engine lacks torque and the tyres don't have the bite to grip on solid grounds, the CrossFox runs smoothly on rough floors. Its actual performance begins to shine will it is allowed to move on common city roads.
Stability and accelerations
Developers have designed a strong 1.6 liter engine with short gear ratios. Furthermore, the chassis ascertains on a firm ride. The CrossFox runs with a higher centre of gravity. This has a massive influence on the car's stability. This means that cruising around with the CrossFox will be comfortable and easy. The improved gear ratio further allows drivers to accelerate and compensate with extra weight effortlessly. Another factor that increases the fame of CrossFox would be its "huge rear space" for several shopping bags!
A sensible niche
The CrossFox and Cross Polo have been around for more five years. The models are observed and investigated by car aficionados. It has been selling greatly in America and Latin American countries. They are regarded as proficient budget performers. With more powerful engines, sport tuned suspension, splendid brakes, exterior trim pieces and unique interior designs; the Volkswagen CrossFox is definitely a practical car that is apt for fun and driving. It is designed to be the market's hot hatch. The modern creation is based on standards to en suite with the niche of luxury but affordable cars!